This timeline includes major milestones of the project or specified working periods.
Pre-Final Meeting Rome (IT) - petermaz
Das vorbereitende Treffen zum Projektabschluss fand im Oktober 2022 in Rom statt und wurde vom Partner EuphoriaNet ausgerichtet. Die Teams tauschten ihre Erkenntnisse über Lernplattformen aus und stellten das Konzept für den endgültigen Leitfaden fertig.
Aufrufe: 0
Working on Learning Platforms - petermaz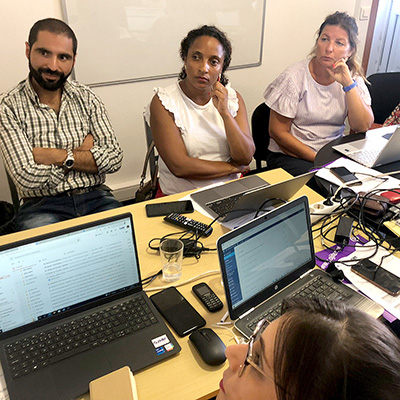 The time between the two staff training activities was used to work on various learning platforms. The results of each team were practiced in the second staff training in Angra do Heroismo (PT).
Aufrufe: 0
Learning-Teaching-Training Event in Odense (DK) - petermaz
The first staff training (LTT1) took place in Odense (Denmark), hosted by BrainLog. The focus was set on the use of the analyzed multimedia tools and the creating of learning content.
Aufrufe: 0
Working on Multimedia Tools - petermaz
The months after the meeting in Wiener Neustadt were dedicated to the analysis of multimedia tools. The approach focused on free-to-use tools.
Aufrufe: 0
Meeting in Wiener Neustadt - petermaz
The COVID-19 situation has changed due to the big number of vaccinated people (in Austria, approx. 50% of the population). This situation enabled the first Face-to-Face Meeting of the project!
Aufrufe: 0
Multiple Devices: Study Report - petermaz
Use of Multiple Devices in Learning: How to display interactive and multimedia-based content correctly? The result of the questionnaire enhanced by findings during the project development was published begin of March 2021.
Aufrufe: 0
Multiple Device Survey - petermaz
In the frame of the project, the partner started a survey asking the project's target group about the practical use of multiple devices in technology-enhanced learning. For this reason, three different micro-apps have been created and people were asked to test them using various devices and to provide feedback in a questionnaire.
Aufrufe: 0
Facebook Page - petermaz
The project team implemented a FaceBook page. Within one month, the FaceBook page had more than 100 followers.
Aufrufe: 0
First Virtual Meeting - petermaz
The first meeting of the project team took place virtually on November 13, 2020 (ZOOM). People from all partners participated in this meeting.
Aufrufe: 0
Project launched - petermaz
The project was launched on November 1st, 2020. The InterMedia project aims to increase the competencies of adult educators, trainers, and adult education organisations to use interactive and multimedia-based content.
Aufrufe: 0
Project granted - petermaz
The European Initiative for Education applied for a new project, called "Implementation of Interactivity and multimedia-based content using Multiple Devices in Adult Education". The project got funded by the Austrian National Agency (with Project Number 2020-1-AT01-KA204-078005)
Aufrufe: 0
Aufrufe: 213